Why Hello there
Welcome to Fifth Avenue Collection, one of the most beautiful & affordable collections of the very finest Fashion Jewellery. Fifth Avenue makes beautiful gifts for any occasion. I would be pleased to help you select something for that special person or best of all, something " Just for You." Everyone loves "Free Jewelry" and with our exceptional hostess program, having your own show is both fun and rewarding.
Do you wish you could have your own Business? This is also a wonderful business opportunity to achieve financial independence. I would love to share our Invitation site with you so you can see the success and fun you can have as a Fifth Avenue Independent Jeweller. Let's set up a date and time especially for you.
Spring is almost here ladies and we have just launched a new release of beautiful jewelery especially for you. Check it out because I know you will find something just for you and your new look for Spring. Happy shopping everyone!
Anne Bassett
mailto:abassett@shaw.ca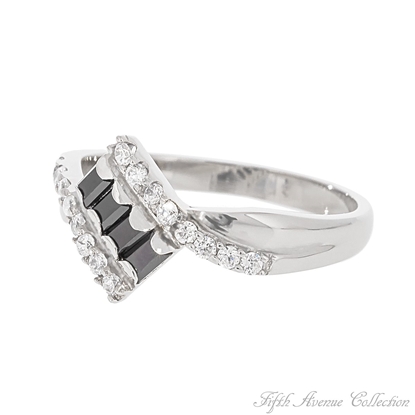 A single row of jet cubic zirconia is enhanced with two stunning rows of sparkling clears. A brilliant combination for this rich and durable stainless steel ring finished in rich rhodium. Sizes 5 to 12Nickel, lead and cadmium free.